Subscribe/Purchase
McCord Full-Access Membership Annual Plan 

| Level | Price | |
| --- | --- | --- |
| Annual Subscription, Full Library Access | $300.00 per Year. | Select |
| Test Membership | Free. | Select |
---
100% Money-Back Guarantee
We are confident that you will find McCord Safety Training Videos a valuable part of your staff training efforts.  Should you, however, be disappointed in our products and services, you may request a full refund within 30 days of purchase. To obtain a refund, please contact us and include the username, email address, and name on file for the account you wish to cancel. We would also appreciate any suggestions for improving our product. At that time, we will cancel your subscription and refund any one-time payment made.
OSHA has revised its Hazard Communication Standard (HCS) to align with the United Nations' Globally Harmonized System of Classification and Labeling of Chemicals (GHS).
Two significant changes contained in the revised standard require the use of new labeling elements and a standardized format for Safety Data Sheets (SDSs), formerly known as, Material Safety Data Sheets (MSDSs). The new label elements and SDS requirements are intended to improve worker understanding of the hazards associated with the chemicals in their workplace.
The first compliance date of the revised HCS is December 1, 2013. By that time employers must have trained their workers on the new label elements and the SDS format. To ensure employees have the information they need to better protect themselves from chemical hazards in the workplace during the transition period, it is critical that employees understand the new label and SDS formats.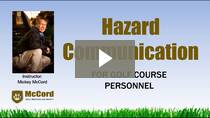 McCord Safety Video #10, Hazard Communication for Golf Course Personnel, explains the key components of the new Hazard Communication Standard, including the required training for the new Globally Harmonized System and changes to labels and Safety Data sheets. Including this video in a training session for your staff will put you in compliance with the new standards.