Mickey McCord
Mickey McCord's Latest Posts
We have just uploaded Video #11: Avoiding Slips, Trips and Falls, as well as Spanish versions of
Workplace Safety and Emergency Response,
Back Safety and Proper Lifting, and
Sun Safety and Protection.
All are available to all subscribers, immediately.
OSHA has revised its Hazard Communication Standard (HCS) to align with the United Nations' Globally Harmonized System of Classification and Labeling of Chemicals (GHS).
Two significant changes contained in the revised standard require the use of new labeling elements and a standardized format for Safety Data Sheets (SDSs), formerly known as, Material Safety Data Sheets (MSDSs). The new label elements and SDS requirements are intended to improve worker understanding of the hazards associated with the chemicals in their workplace.
The first compliance date of the revised HCS is December 1, 2013. By that time employers must have trained their workers on the new label elements and the SDS format. To ensure employees have the information they need to better protect themselves from chemical hazards in the workplace during the transition period, it is critical that employees understand the new label and SDS formats.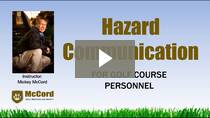 McCord Safety Video #10, Hazard Communication for Golf Course Personnel, explains the key components of the new Hazard Communication Standard, including the required training for the new Globally Harmonized System and changes to labels and Safety Data sheets. Including this video in a training session for your staff will put you in compliance with the new standards.
With record temperatures occurring in all areas of the country this summer, it's important to know the difference between two types of heat illnesses: heat exhaustion and heat stroke.
Heat Exhaustion is characterized by moist, clammy, sweaty skin; dizziness, headache, rapid heartbeat, weakness, cramps (especially in the legs) and even nausea and vomiting.
Symptoms of Heat Stroke, a more extreme type of heat illness, include red, dry, hot skin (not sweaty); high body temperature, confusion, fainting and even convulsions.  Be aware of the behavior of your fellow workers.
IT IS CRITICAL TO KNOW THE DIFFERENCE, AS 20% OF HEAT STROKE VICTIMS DIE.
Both heat exhaustion and heat stroke can be avoided by wearing a hat and light colored clothing, and by drinking plenty of water (starting early in the day, and then every 15 minutes even if you're not thirsty). Gatorade or other sports drinks are OK, but avoid sodas, coffee and any alcoholic beverages.  Rest in the shade when necessary, and CALL 911 or get other help should you or a co-worker start to exhibit any of the above symptoms of heat illness.
More information on heat illness can be found in the Heat Stress and Safety training video.  Please print and tack this poster to your staff bulletin board.